Specialists in on-line measurement of cyanide, WAD cyanide, acid, lime and other reagents in mining solutions.
Process Analytical Systems analyzers are purpose designed for the application at hand. This simplifies the equipment, offering the user a package that is easy to understand and maintain. The analyzer HMI (Human Machine Interface) uses recognisable Engineering Units. Personnel adapt to use our equipment with ease. PAS analyzers are installed in over 30 countries around the world. Units are mainly deployed on mining sites, where our ability to sample mining slurries and present clear process solutions for analysis is one of the key factors for success. Analyzers are designed to cope with real-world harsh plant environments and are built to handle dirty power, dust and vibration. Typical enclosures are IP65 GRP (Glass Reinforced Plastic). All exposed metal parts are Stainless Steel. When required the equipment is supplied pre-installed in a small insulated cabin. The cabin can be fitted with an optional air-conditioner for hot climates, or heater for cold climates. We have experience in coping with all temperature extremes. All our analyzers offer industry standard signal interfaces to the plant process computers. Various PLC/DCS bus interfaces are available, as are OPC drivers. Our analyzers have proven track records. We only use analytical methods that are proven, reliable and drift free in plant environments. Our units are designed to need minimal routine maintenance. They run automatic self-cleaning cycles that further reduce the maintenance effort. The units have low reagent usage.
R&V can supply the following products:
---
WAD 1000-S – Cyanide Analyser

WHAT IS WAD CYANIDE?
WAD Cyanide is complexed "Weak Acid Dissociable" Cyanide potentially toxic to humans and animals.
WHY MEASURE WAD CYANIDE?
In today's world environmental protection plays an important role.
Measuring WAD Cyanide on-line can ensure a Plant complies with the International Cyanide code.
Real-time results can be used to control and optimise the cyanide destruction and recovery process.
METHOD
The WAD 1000-S Analyser uses the Picric Acid Method. Advanced sample preparation removes interferences from the sample.
Fast and Accurate
On-line measurement offers fast and repeatable results.
The analysis cycle time is of the order of 20 minutes per analysis.
Reliability
The WAD 1000-S Analyser is based on the TAC 1000 hardware platform. It is designed to be simple to operate, rugged to survive harsh plant environments and easy to maintain.
Measurement Range
The analyser is usually set up with calibrated range of 0.1 to 50 ppm WAD Cyanide. Other ranges from 0 ppm to 300 ppm are easily handled. Virtually no cross contamination between Streams, even if one stream is over 150 ppm and the other stream is below 5 ppm as seen on typical Cyanide detox plants.
Support
Process Analytical Systems have equipment installed in many countries around the world and have built up a technical support system to deal with any support issues.
Interfacing
The equipment has the usual process interface signals of 4-20mA and potential free contact. It also supports MODBUS data interchange. The unit uses mains at 220 VAC or 110 VAC at 10 A Maximum.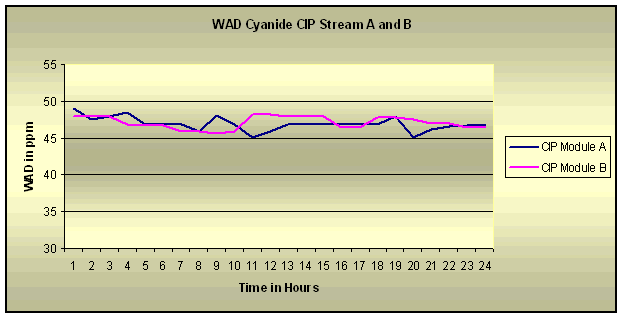 The WAD 1000 can link to a GSM network. This allows for remote operation and support and results can be sent by SMS to anyone, anywhere.

FEATURES
The analyser can measure two streams.
The analyser has a (third) manual sample addition point.
Able to prepare one sample while analyzing another.
Excellent precision and accuracy.
Low reagent use. e.g. Picric use is less than 0,5l per day.
The analyser calibrates automatically using standard and blank solutions.
It automatically cleans its glassware and tubing.
Good visibility into the operation of the machine for easy fault finding.
OPTION
GSM modem for remote configuration and result sending via SMS
PLC bus interface.
Number of streams and control options.
---