Description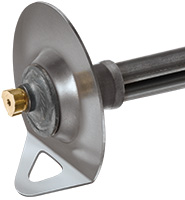 The Hydrabolt is a fabricated steel tube, "C" shaped in cross section, and sealed at both ends. At one end a hydraulic nipple, with integral non-return valve, allows connection to a hydraulic pump.
After drilling a support hole in the rock to the required diameter and length, the Hydrabolt is inserted and a pump is used to expand the tubular rockbolt radially with water at pressures typically 25MPa (3500psi). Frictional resistance between the wall of the hole and Hydrabolt provides outstanding pull-out resistance.
The Hydrabolt has been designed to facilitate ease of installation and to provide the user with immediate support and a safe working environment. Unlike other designs, the Hydrabolt incorporates a check valve to prevent the fluid from being released once the inflating nozzle is removed. This system provides a better grip as the clamping inside the hole adapts to the shape, size and irregularities of the hole and distributes the clamping force evenly throughout the length of the hole. As the installed Hydrabolt is sealed the internal corrosion is self-inhibiting.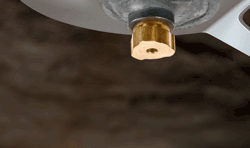 The patented design of the Hydrabolt valve provides a visual method of verifying the correct installation of the roofbolts. The integral load indicator indicates that the Hydrabolt has been correctly installed by popping forward once the Hydrabolt has been installed with the correct internal pressure; secondly the colour of the load indicator identifies which length of Hydrabolt has been installed. The load indicator also confirms whether a Hydrabolt or X-Pandabolt has been installed.

Hydrabolt indicator
Hydrabolts can now be fitted with a new button and indicator where the load indicator protrudes from the button after correct pressurisation. This allows for better visibility of the indicator when checking for correct installation. This system is compatible with the new Self-auditing Jackpot.


Advantages of Hydrabolts
Quick and easy to install
Wide expansion range
Patented non-return valve which limits "spring-back" giving increased pull-out resistance
Pressurising done remotely
Not affected by blasting vibrations
No resin or grout required
No parts to lose in transport
Not susceptible to rock strength
Load distributed evenly over entire length of hole
Provides immediate support
Range
Three models of the Hydrabolt are currently available and can be manufactured in lengths ranging from 0.9 to 3.0 meters in increments of 0.3 meters. Non-standard lengths can be accommodated upon request.
| | | | | |
| --- | --- | --- | --- | --- |
| Model | Nominal diameter (mm) | Recommended hole diameter (mm) | Maximum Load Capacity (ton) | Typical Bond Length (mm) |
| Hydrabolt NT | 26 | 32–36 | 8.0 | 250 |
| Hydrabolt Normal | 26 | 32–36 | 10.0 | 250 |
| Hydrabolt Ø29 | 29 | 34–40 | 10.0 | 300 |